Why choose Appmost?
By developing our own framework we have optimized the steps of app-development. We have cut down the time and cost required to develop a normal app to between 10 - 25% of the normal!

Speed plus Quality
The foundation is already built. We have already coded most functions and views you need. Now we only need your content and connect the features you want to use. The views are coded and designed with quality and User Experience in mind.

Cheap and risk free
Pay per month. Make it easier to calculate and control your spendings. Pay a lot less than a traditional setup and stop your plan any time you want.
Smooth
We build your app in our own tool. And after that you have access to the same tool and can update the app yourself with content and functions. You also get new features, bugfixes and support for future iOS versions for free.
What features do we have?
Json API integration, QR scanning, Firebase integration, Create account, Camera, Image views, Push notifications, Google Sheet integration, Open external apps, Google Analytics, Mailchimp integration, Import from library, Sorting, Filtrering, Search, Dialogs, Modals, Actionsheets, App-templates, GPS position, Timers, Maps, Input fields, Forms, Text editing, Auto JSON mapping, Web image import, Open App Store Reviews, Icon genereration, Icon import, Device Preview, iOS 13 Large titles, Auto-uppdates from data sources, Variables, Functions, PDF export, Stripe payments, Shiping and payment views, iPad support, functions, Custom objects, Pull-to-refresh, Date formatting, Over 1000 included icons, System variables, Help parameters, Dynamic lists, Dark Mode, Color themes, Date management etc.
How is it done?
We have a simple process for getting started with building your own app.
Send a request
Send us a description of what kind of app you want to build. We quickly reply to you with details on price and if the app can be made.
The app is built
We are happy to build the app for you for a fixed hourly rate. You can also build parts of (or the full) app yourself by using our editor for macOS.
Publish on App Store
Either we publish the app on our App Store account or on yours. You can then update the content of the app smoothly using our editor. Custom but still general
Custom apps are often expensive, really expensive. A custom native app built for a client can cost from all from $10.000 to $200.000.

Appmost builds all its apps from the same code base and adds custom adjustment in a layer on top. In that way we can make unique customer apps, but to a much lower cost.
FAQ
Here are the most common questions we get about our service.
How much does it cost to build an app?
By default, we charge a license fee per month. This depends on how big your company is and how many advanced features you use. From $99 / month plus VAT and upwards. This is considerably cheaper than what a native app normally costs. Contact us for more details.
Who owns the app if you rent it?
You always own the rights to the content you add to the app, but you do not have access to the source code and do not own any copyright on the app itself. Your can always request the "code" for what is the content of your app.
Why is developing with Appmost faster?
VWe reduce the number of choices to a minimum. You should not have to set font sizes, pixel distances or colors yourself. We have already built the most common views Do you have all the features we needand functions and you easily compose these. The idea is that it should be impossible to build an ugly, bad or buggy app.
Do you have all the features we need?
Probably not. We are in Beta phase and are currently looking for companies that want to provide input regarding functions. We are currently targeting iOS utility apps for internal use at small and medium sized companies. If we do not have your specific function, we will gladly develop it as long as we can reuse it for other companies.
How do I update my app?
We will soon be launching our macOS editor. There you will be able to see and edit your app. Then come back to us when you want to publish an update on the App Store.
Can I test before paying anything?
Of course. We will launch our "studio" for macOS in late 2020. There you will be able to test different templates for apps. Contact us now if you are interested.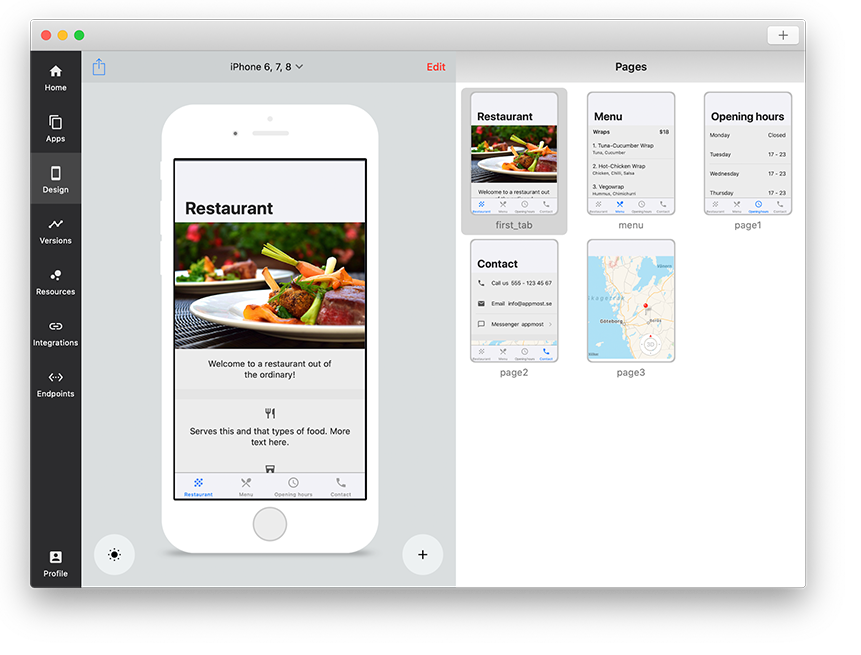 How smooth can you
make app development?
Very smooth!
Soon we will be releasing our own app development tool for iOS. The tool is downloaded to your macOS computer. Here you can start to compose your own app yourself. Or you can contact us to see if we can help you build your first app.
Download studio We're looking for you!
We are currently looking for companies and partners who want to test our service. We offer a discount as well as helping you build your first app. Contact us for more details.

Two ways to manage iOS apps
We help you with two types of app distribution depending on your needs.
Internal distribution,

via private App Store
Perfekt for internal apps. Only employees of your company can download the app and you have full control over who has access. No additional charge for App Store account is required.
Apple Custom Apps
Public app,

via App Store
Suitable for an app that can be used outside your organization. App Store account annual fee is added.
Apple App Store